Order Dr. Aronson's book, CARRIED IN OUR HEARTS: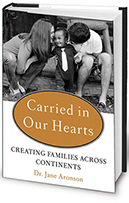 New developments for Ethiopian adoption Feb 18, 2014
Welcome to Orphandoctor.com
This site was designed to educate families hoping to adopt children both domestically and from abroad, starting with pre-adoption counseling to long-term developmental issues and concerns.
In addition, the site provides all users with relevant medical research and definitions, links to other helpful sites and a section in which to present our own adoption experiences.
If you have a specific question, visit our Frequently Asked Questions or use our keyword search at the top of the page.
I look forward to getting to know you and your children, and to helping you help them have a happy and healthy childhood.
-- Dr. Jane Aronson
About Doctor Aronson
Dr. Jane Aronson was born in Brooklyn in 1951 and grew up on Long Island. She attended Hunter College in New York City and taught school for ten years. At thirty-one, she fulfilled her life's dream to become a physician and entered medical school. She graduated from the University of Medicine and Dentistry of New Jersey in 1986 and did a pediatric residency and chief residency in New Jersey, followed by a fellowship in Pediatric Infectious Diseases at Columbia Presbyterian /Babies Hospital in New York City. Between 1992 and 2000, she was the Chief of Pediatric Infectious Diseases and Director of the International Adoption Medical Consultation Services at Winthrop-University Hospital in Mineola, New York.
Since July 2000, Dr. Aronson has been in private practice as Director of International Pediatric Health Services, in New York City. She is Clinical Assistant Professor of Pediatrics at the Weill Medical College of Cornell University and has evaluated well over 4,000 children adopted from abroad as an adoption medicine specialist; she has traveled to orphanages in Russia, Romania, Bulgaria, China, Vietnam, Ethiopia, and Latin America.
Since 1997, she has conducted research and provided education in orphanages abroad through her 501(3) (c) foundation, Worldwide Orphans Foundation (WWO). WWO documents the medical and developmental conditions of children living in orphanages abroad in order to identify their immediate healthcare needs and to advocate for their well-being through the Orphan Ranger Program. This program acts as a "peace corps" for orphanages by commissioning university students and healthcare professionals to live and work in orphanages. They are proficient in the native tongue and work in conjunction with staff to improve the nutritional and emotional health of abandoned children. Since 1997, Dr. Aronson has funded Orphan Rangers in Russia, Ukraine, Kazakhstan, Bulgaria, India, Ecuador, Viet Nam, China, Serbia, Montenegro, and Ethiopia. WWO has been granted NGO status in Viet Nam and Ethiopia and has embarked on training programs for physicians in both countries to care for HIV-infected orphans.WWO currently treats orphans with HIV/AIDS in both countries.
She has been featured in many newspapers and magazines, such as The New Yorker on July 17, 2000, People on November 12, 2001, May 2, 2005, August 1, 2005, and most recently, November 7, 2005; other features were in The NewYork Times in Jane Brody's Science Times/Personal Health column on July 22, 2003 and then Jill Brooke's feature on adoption and home design on July 22, 2004. She is a recipient of the Congressional Angel of Adoption Award in September 2000. She is the adoptive mom of two sweet boys, Ben, from Viet Nam and Desalegn, from Ethiopia.